| Introduction | History | Goals | Partnership | Themes | Mobilising Tools |
History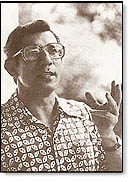 The idea of WBW was born at the basement of UNICEF office on 14 Feb 1991. Below is a recollection of how WBW came to be and its subsequent success as noted by Sarah Amin in her book Nurturing the Future - our first five years:
"At the first meeting of WABA, Anwar Fazal (picture right) proposed that WABA have one unique unifying social mobilisation event that can build solidarity and action. He suggested holding a World Breastfeeding Day. After discussions with Janet Nelson and her team at UNICEF it was agreed that a full week would be more practical and effective. So World Breastfeeding Week was born.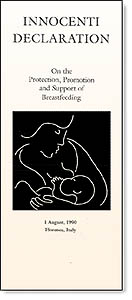 World Breastfeeding Week is WABA's main global campaign and has the greatest outreach for the breastfeeding movement. The first World Breastfeeding Week campaign on the Baby-Friendly Hospital Initiative (BFHI) was launched on 1 August 1992 to commemorate the adoption of the Innocenti Declaration. WABA organises WBW every year from 1 - 7 August as an opportunity for groups worldwide to take specific actions that will raise public awareness about breastfeeding and reap support for it. From 1992 to 1995, each year's WBW theme focused on one aspect of the Innocenti targets to ensure their implementation. About 70 countries participated in the first WBW by organising seminars, public forums, radio talk show, involving government officials and popular personalities in breastfeeding publicity events, joining the LLLI's worldwide walk, etc. By the second year more that 120 countries had recorded their involvement in the WBW."
This is an astonishing record of public involvement and high level creativity in a cause within just a short period of time. The WBW campaign has been used as an excellent example of successful social mobilisation by other NGO networks such as the Pesticide Action Network (PAN) which has launched its Safe Food Campaign modelled on the WBW campaign.


World Alliance
for Breastfeeding Action

The World Alliance for Breastfeeding Action (WABA) is a global network of individuals & organisations concerned with the protection, promotion & support of breastfeeding worldwide. WABA action is based on the Innocenti Declaration, the Ten Links for Nurturing the Future and the Global Strategy for Infant & Young Child Feeding. WABA is in consultative status with UNICEF & an NGO in Special Consultative Status with the Economic and Social Council of the United Nations (ECOSOC).

.

.

For more information, contact:
WABA
PO Box 1200,
10850 Penang, Malaysia
Tel: 604-658 4816
Fax: 604-657 2655
E-mail: waba@waba.org.my
Website: www.waba.org.my