| Introduction | History | Goals | Partnership | Themes | Mobilising Tools |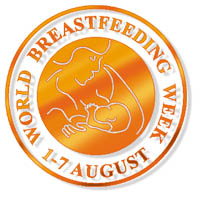 Goals of WBW
First and foremost, WBW is aimed at stimulating efforts among all breastfeeding advocates, governments and relevant agencies to generate public awareness and support for breastfeeding. It also serves as a platform to unify breastfeeding groups within the breastfeeding movement while linking with those other issue groups outside the movement.
Equally important is the commemoration of the Innocenti Declaration on 1st August. The Innocenti Declaration was adopted by 32 governments and 10 United Nations and other international agencies. The focus of the themes on the Innocenti targets has rallied global support for the various targets over the years.
Even though the official dates for WBW is on 1-7 August, some countries have chosen to celebrate national breastfeeding week on another date to increase public participation and media attention. Switzerland, Norway, UK, and the Netherlands organise their breastfeeding campaign on the 40th week (in October) since most people are on holiday in August. Other European countries like Germany, Luxembourg, Belgium and France, however, have kept to August.
Innocenti Declaration
Click on the picture to view actual size in PDF format.


World Alliance
for Breastfeeding Action
The World Alliance for Breastfeeding Action (WABA) is a global network of individuals & organisations concerned with the protection, promotion & support of breastfeeding worldwide. WABA action is based on the Innocenti Declaration, the Ten Links for Nurturing the Future and the Global Strategy for Infant & Young Child Feeding. WABA is in consultative status with UNICEF & an NGO in Special Consultative Status with the Economic and Social Council of the United Nations (ECOSOC).

.

.

For more information, contact:
WABA
PO Box 1200,
10850 Penang, Malaysia
Tel: 604-658 4816
Fax: 604-657 2655
E-mail: waba@waba.org.my
Website: www.waba.org.my