| Introduction | History | Goals | Partnership | Themes | Mobilising Tools |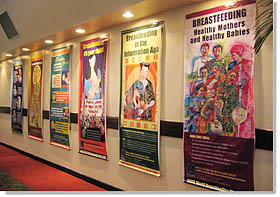 WBW Themes
Each unique, captivating and issue specific theme has given a clear focus for organising WBW activities. The Baby-Friendly Hospital Initiative (BFHI) is a good example of a very specific theme that focused global attention on activities that aim to change hospital practices worldwide to support breastfeeding.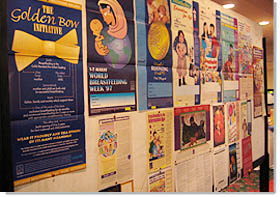 It is worth noting the titles of all WBW themes to date to get a sense of the different dimensions of the breastfeeding issue that have been highlighted for global action.
These include health care systems, women's employment and women's work, marketing practices of breastmilk substitute companies, national laws and practices on breastmilk substitute, community action, ecology, economy, science and education and human rights.
1992 Baby-Friendly Hospital Initiative (BFHI)
1993 Mother-Friendly Workplace Initiative (MFWI)
1994 Protect Breastfeeding: Making the Code Work
1995 Breastfeeding: Empowering Women
1996 Breastfeeding: A Community Responsibility
1997 Breastfeeding: Nature's Way
1998 Breastfeeding: The Best Investment
1999 Breastfeeding: Education for Life
2000 Breastfeeding: It's Your Right
2001 Breastfeeding in the Information Age
2002 Breastfeeding: Healthy Mothers and Healthy Babies
2003 Breastfeeding in a Globalised World
............for Peace and Justice
2004 Exclusive Breastfeeding: the Gold Standard -
............Safe, Sound, Sustainable
2005 Breastfeeding and Family Foods: Loving & Healthy -
............Feeding Other Foods While Breastfeeding is Continued
2006 Code Watch - 25 Years of Protecting Breastfeeding
2007 Breastfeeding: The 1st Hour - Save ONE million babies!
............
2008 Mother Support: Going for the Gold Everyone Wins!
............
2009 Breastfeeding: A Vital Emergency Response
............
2010 Breastfeeding, Just 10 Steps! -
............The baby friendly way
2011 Talk To Me! Breastfeeding -
............A 3D Experience
Each theme has laid the foundation for the next, so that new actions can be built upon the successes of the old. The diverse themes also help to raise the issue in new and fresh ways making WBW every year interesting for groups to look forward to.