| Introduction | History | Goals | Partnership | Themes | Mobilising Tools |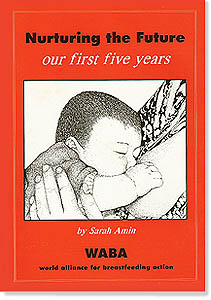 1991
The idea of WBW was conceived by WABA. The short history follows …
The birth of WABA
The idea of the World Alliance for Breastfeeding Action (WABA) was born on the evening of 14 February 1991 in a little restaurant in downtown New York, following an NGO planning meeting organised by UNICEF to follow up on the Innocenti Declaration and strategize for a coordinated global effort to protect, promote and support breastfeeding. "The February meeting in New York", according to Anwar Fazal, "showed us how much each group was doing. More importantly, it showed how much more needed to be done and that there was a real urgency for popular mobilisation on a scale we had never before dared to dream".
Anwar Fazal, who conceived the idea and the name of WABA, recollects that throughout the meeting he particularly noted Margaret Kyenkya of UNICEF saying "the NGOs must come up with something, otherwise this will just be another talk shop." The reception to the idea was overwhelming. WABA was formed as an umbrella network of organizations and individuals who believe breastfeeding is the right of all children and mothers, and who dedicate themselves to acting on this right. Pat Young of the US World Food Day Secretariat developed the first WABA brochure overnight (see below) and got it printed in record time. Derrick Jelliffe inspired and wrote the song "The WABA Crawl" in calypso music (see below). These are examples of the spirit that moved the pioneers of WABA.

Waba theme song: "The Waba Crawl"

© 1996 World Alliance of Breastfeeding Action; Lyrics: © 1991 Derrick Jellife, 1996 Sean Enraght-Moony; Music: © Joe Da Silva, Sean Enraght-Moony. All rights reserved.
Lyrics: "The Waba Crawl"

Baby do the WABA Crawl
You can feel so big and tall
Throw the bottle to the wall
All the others, they feel small
Chorus:
Do the WABA Crawl
Do the WABA Crawl
Come on, baby, do the WABA Crawl
Do the WABA Crawl
Do the WABA Crawl
Come on, baby, do the WABA Crawl
WABA, through the grand alliance
Help us find allies and finance
This means that we gotta get money
And, of mother, that ain't funny
Chorus
Instrumental break
Chorus
The First WABA Brochure
Click on the pictures to view actual size in PDF format. Leaflet folds into four.


World Alliance
for Breastfeeding Action

The World Alliance for Breastfeeding Action (WABA) is a global network of individuals & organisations concerned with the protection, promotion & support of breastfeeding worldwide. WABA action is based on the Innocenti Declaration, the Ten Links for Nurturing the Future and the Global Strategy for Infant & Young Child Feeding. WABA is in consultative status with UNICEF & an NGO in Special Consultative Status with the Economic and Social Council of the United Nations (ECOSOC).

.

.

For more information, contact:
WABA
PO Box 1200,
10850 Penang, Malaysia
Tel: 604-658 4816
Fax: 604-657 2655
E-mail: waba@waba.org.my
Website: www.waba.org.my